AKC Ch.Refinne Wild Spirit, RN, CA, NAJ, CL1-R, CGC
This page will always stay up as she was the foundation of our kennel.
Here is the eulogy I wrote for her the day she died.
Spirit
6/17/2004 -1/9/2019
To eulogize this dog would be to sum up my entire adult life and so many of my dreams, goals, and acheivements. I was led to them, or did them all with this beautiful, brilliant little silver dog at my side. She never once said no to any adventure and kept the happiest attitude until her very last day. To sum her up would take pages, it's enough to say she was the very best dog. Irreplaceable. There will be a joyful space in my heart that I will cherish our adventures in until my very last day. Thank you Spirit for everything.
Later I wrote a history of her life and titles that she earned:
Our girl Spirit left us one year ago today at the age of 14.5. I never mentioned all she did and earned, so I thought I would today. Titles were what we earned when we were out having a great time together. 
*She was an owner handled AKC puppy Champion with a group 3 award.
* A UKC grandchampion with multiple group 1s and many veteran best in shows
* She enjoyed agility and earned an AKC standards, jumpers and agility test 1 and 2. Also a few levels of CPE Agility titles and UKC level 1 agility at 13 years old. 
* She had her rally obedience titles in AKC. She knew advance obedience like drop on recall, directed retrieve, and off leash heeling. Akc cgc at 1 yr old and earned her ukc spot at 13. 
* She never earned a hunt title, but she was steady to the shot, would quarter pheasant, and deliver birds to hand. She once drug a canada goose almost her weight to us! 
*She had a weight pull title in UKC and we use to skijor in Alaska, and she pulled on our team cart until age 11. 
* She liked to dock jump and swim, and once accompanied me in the front of my kayak on a boundary waters trip! 
* Climbed multiple mountains in Alaska, swam beaches on lake michigan, and ran away every chance she got to chase ducks!
* She love lure coursing and had AKC and UKC coursing titles. 
* She was in multiple national commercials and ads including those for Target, Patterson dental, and Purina Pro Plan. She was a pro, and could get the shots needed very quickly.
* She was healthy and passed all of her health testing, she never had a major illness other than one infection. She free whelped 3 large litters and was an excellent mother. 
*She was a certified therapy dog and also worked with me during my time as a social work intern in a nursing home. She knew many tricks and would delight people with them. 
*She was trained to retrieve my phone when it rang, take my socks off, turn on and off lights, retrieve any fallen object, and many other service dog tasks. She soothed my panics panic attacks that were frequent when I was a young woman. She gave me freedom so I could fly with her without panic attacks as my service dog. 
*She was wild, and brilliant, and challenging! She would still "run away" on our property even as arthritis crippled her in her last year (Jon following behind). 
*She was all anyone would want in a dog, and more. She never said no, always an enthusiastic yes. A better companion will never be found, but a similar one lays at my feet, sent to me from her, 4 generations later. 
May you all be blessed with a pet that makes you smile and cry at the same time when you think of them. -Jennifer
Spirit- UWP, SPOT, UAG1 AKC Champion, UKC Grand Champion Refinne Wild Spirit, RN, CA, NAJ, CL1-R, CGC ,TDI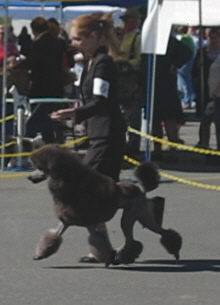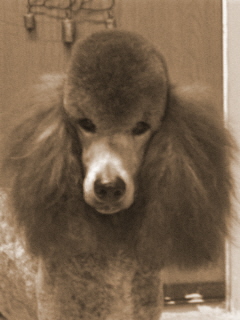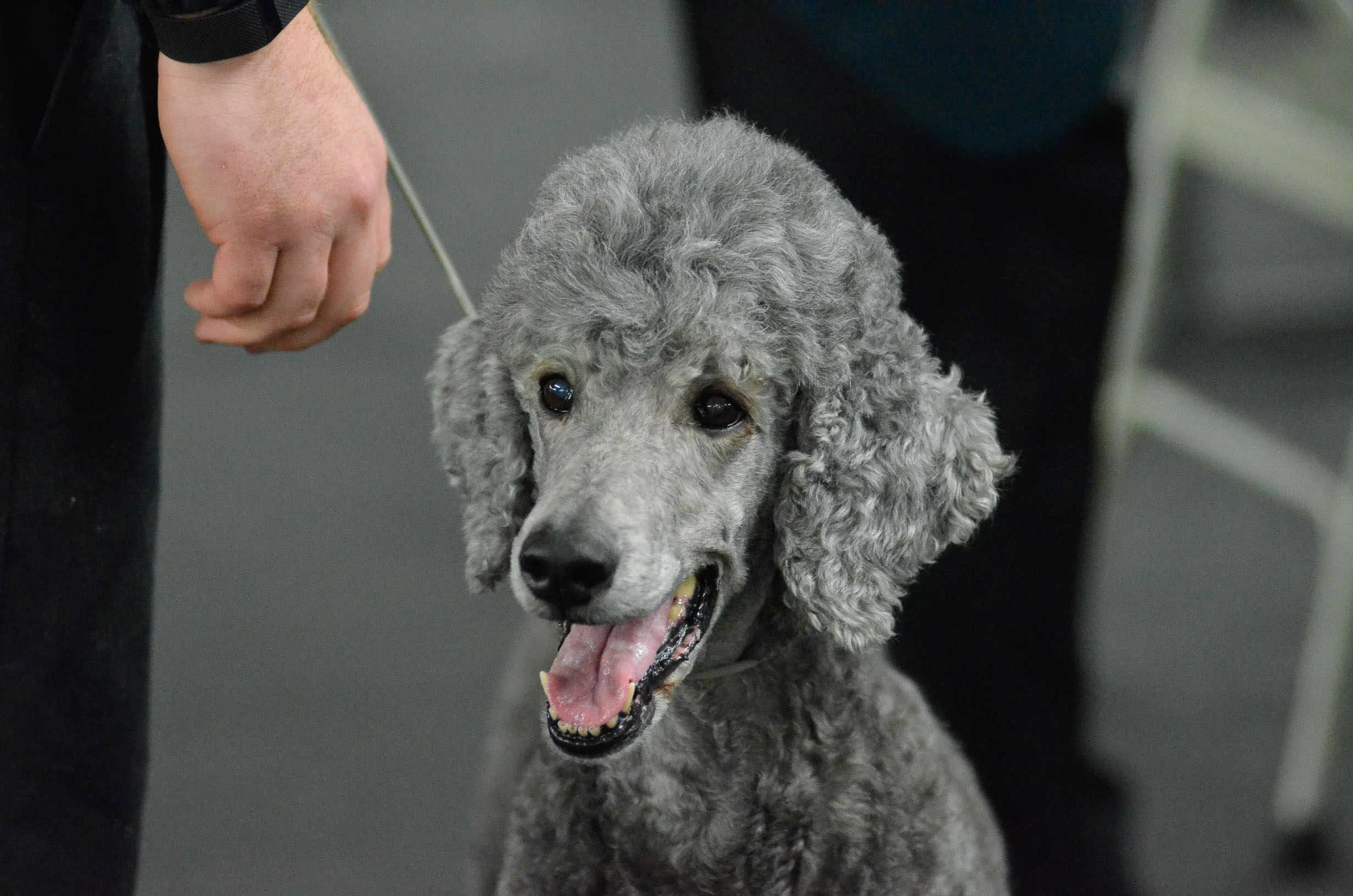 Spirit is my first showdog, a gorgeous dark silver with nice conformation and good movement.  She is an easy dog to show, finishing her AKC championship completely ownerhandled at the young age of 11 months. She even won a group placement, owner-handled!  Spirit is sweet, smart, driven, eager to please, and easy to motivate. She is a dream dog for me and would be for anyone who does obedience, hunting, or agility. There is nothing I've asked her to learn she couldn't do. She can turn on lights, retrieve any object including coins, help put sheets on a bed, as well as all the typical tricks of a performance dog. She even learned how to fetch my cell phone when it rings from where I last lost it in the house and brings it to me! She has been in multiple commercials and print ads for companies like Purina Pro Plan and Target from 6 months old to 12 years old.  Although she is high drive, she does know how to snooze on the couch and act appropriately in all situations. She adores children and is very calm and patient with them.
Spirit and I have been working on hunting since she was 7 weeks, and she loves to retrieve above all things. She loves the water, is not gunshy ( and the first time she heard a gun was at 2 years old), and very naturally birdy. In the right trainer's hands, she would be a titled bird/pheasant dog. She has been on pheasant, dove, and goose hunts and finds birds easily! It is my favorite thing to watch her work, doing the job her breed was made to do.  When not doing retriever training, we are training to get her CD obedience title and doing therapy work at the hospital.
She currently has two Champion titles, a Rally Obedience title, 3 Agility titles, an AKC lure coursing title, a UKC weight pull title and an Canine Good Citizen degree. She is also a top winning Juniors dog for juniors in UKC conformation.
She gave us 3 lovely litters and was an excellent mother. She produced 3 UKC Grandchampions, 1 UKC champion/ agility champion, 2 of them Best in Show winnning, and 3 that are in our breeding program, Indigo, Bentley, and Star.  She has many puppies with performance and therapy titles. She is now retired from breeding to focus on her performance career.
As of May 2016 at the age of 11, Spirit has been healthy and lively with no major health issues. She is sensitive to corn based dog foods (corn isnt a food for a dog anyways) and it will give her ear infections. She gets up a little slower some days, but can still run on walks, chase the chickens and cats, and LOVES to go to shows and strut her stuff in the veterans class or obedience ring. So far we have no reports of autoimmune issues or joint issues in her puppies.
AKC Championship - ownerhandled- with group placements- 2006 
AKC Rally Obedience title- 2006
AKC Canine Good Citizen - 2006
UKC Champion title with Best Female at the UKC Poodle Nationals 2008 
Dozens of Group 1 wins in UKC conformation
CPE Agility Standard and Games titles- 2010
Guided Junior handlers to multiple Best Junior in Show Awards- 2010+
UKC Weight Pull title- 2011- Best weight pulled so far is 1,100 lbs!
UKC agility level 1 title - 2012
AKC Novice standard Agility title - 2012
AKC Lure Coursing title - 2012
2013- 2016, Wins many UKC Best Veteran In Show awards and UKC Group Placements
UKC Grand Champion title - 2016 When she was entered for fun!
UKC SPOT obedience title - 2016
OFa Hips - Excellent
SA skin punch- clear
CERF eyes- normal 2005.06.07.08.09.2010
OFA Heart- normal
VWD clear by parentage
NE clear by DNA
OFA thyroid panel - normal
35 lbs and 21 1/2 inches tall at the shoulder
5th generation of CHIC health certified lines- she produced two CHIC certified daughters as well!