"Pheobe" BIS GRCH. Spirit Vintage Glamour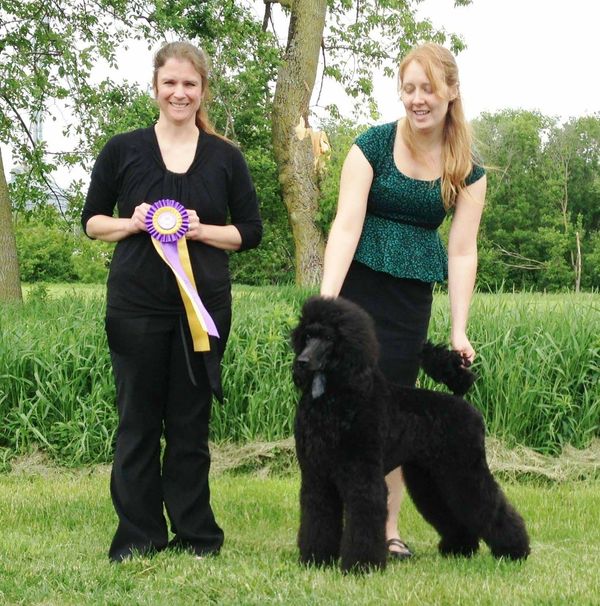 Pheobe was born 10/23/2012 in a beautiful litter of blue, and silver puppies. Her mother, our lovely Indigo and her sire, Rune. Both parents and grand parents are  fully health tested, and so far all are living or died past the age of 13. Her pedigree is full of AKC and UKC champions in black, blue, silver, and parti color. She herself is a UKC Grand Champion with a Best in Show and multiple Group placements. She also earned a Best Puppy in Group in her only Canadian Kennel Club show. She attended 3 weeks of upland bird hunting training, and  has a good nose and drive for bird work. She is a higher energy, low drive dog, with a good off switch. Her favorite things are to cuddle and retrieve any object you'll throw. Her sweetness and loving nature is evident to everyone she meets. She naturally heels at my side when walking or biking, with constant eye contact. She doesn't care for many dog sports except obedience and retrieving.  Pheobe is very similar to her mother, but more feminine, with less bone and size. She has an exellent front and rear, and moves very balanced, with good reach and drive. She has a square build with a fairly short back. She has upright, poodley carriage, with a high tailset and long neck. Her head is long and clean, with good chin and a rounder eye. Long ears, tight, well padded feet, and a correct harsh blue coat fill her out as the total package. 
Pheobe had two litters and gave us our Slate and Daisy. She is now a very beloved juniors dog for AKC and UKC withthe Norah Finch in her retirement. They train for obedience as well. 
Pheobe's Pedigree:
http://poodledata.org/pedigree.asp?ID=423577
Pheobe's Health testing can be found at the link below:
https://www.ofa.org/advanced-search?f=sr&appnum=1685928
* CHIC certification # 116656
* Hips tested OFA Good
* Elbows tested OFA Nornal
* Dentition OFA normal
* Eyes OFA/CERF Normal
*Thyroid Equivocal - Our vet is not concerned, as she was only low by 1 % point and shows no signs of thyroid disorder
* VWD clear by parentage
* NE Clear
*DM clear
* VGL Gene Diversity Tested- Outlier Index .17, Internal Relatedness .06 Haplotypes 1006/2004 and 1011/2011
* 22 inches tall and 40 lbs
* Solid Dark blue even colored coat- carries for parti color gene