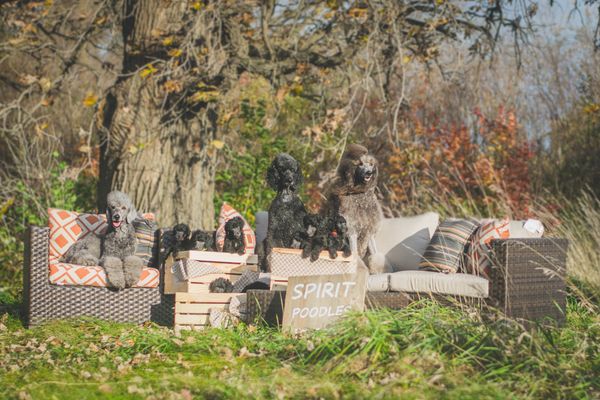 Versatile sporting dogs with beauty, style, and smarts.
Occasionally selling Standard Poodle puppies in blue, silver, black, and white.
Healthy, stable, versatile, and beautiful family companions that you will be proud to own.
Raised in an enriched environment in my home in Northfield, Minnesota. We do not have a large scale kennel, our dogs are also our pets. 
We are modern breeders, utilizing the newest in research, natural rearing techniques, vaccine protocol, puppy placement testing, Puppy Culture, health & dna testing, gene diversity screening, and more.
AKC registered with Champion parents. We have 4 generations in our home.
Full health and genetic testing of ALL parents and grandparents- (OFA/CERF/CHIC)
Incredibly well socialized puppies for versatile companions in agility, obedience, therapy dogs, bird and small game hunting, search and rescue, nose work, running partners, and the best pet dog you've ever owned.  
Our specialty is finding the right standard poodle puppy within a litter to meet your goals/needs. Not every pup is great for every job or family, so we professionally temperament test each pup, and place them accordingly.
We breed for the invested, educated buyer that wants an exceptional performance dog, pet, service dog, hunting companion, and more. We have produced many dogs for all venues of sport, and our buyers are not disappointed. This is no accident, we purposefully breed and raise them to be the best of the best.
Our breeding dogs actively compete in breed shows, agility, lure coursing, weight pull,and obedience competitions and have the titles to prove it! Some also compete in hunt tests,  and are certified therapy dogs. We breed only a few litters a year since we are having too much fun with them to take time off for puppies!
Call Us at (952) 855 -3609